EasyMile Deploys its First Autonomous Shuttle in Korea
Toulouse, 31 March 2021
EZ10
Photo Credit: SpringCloud and Seoul National University of Science and Technology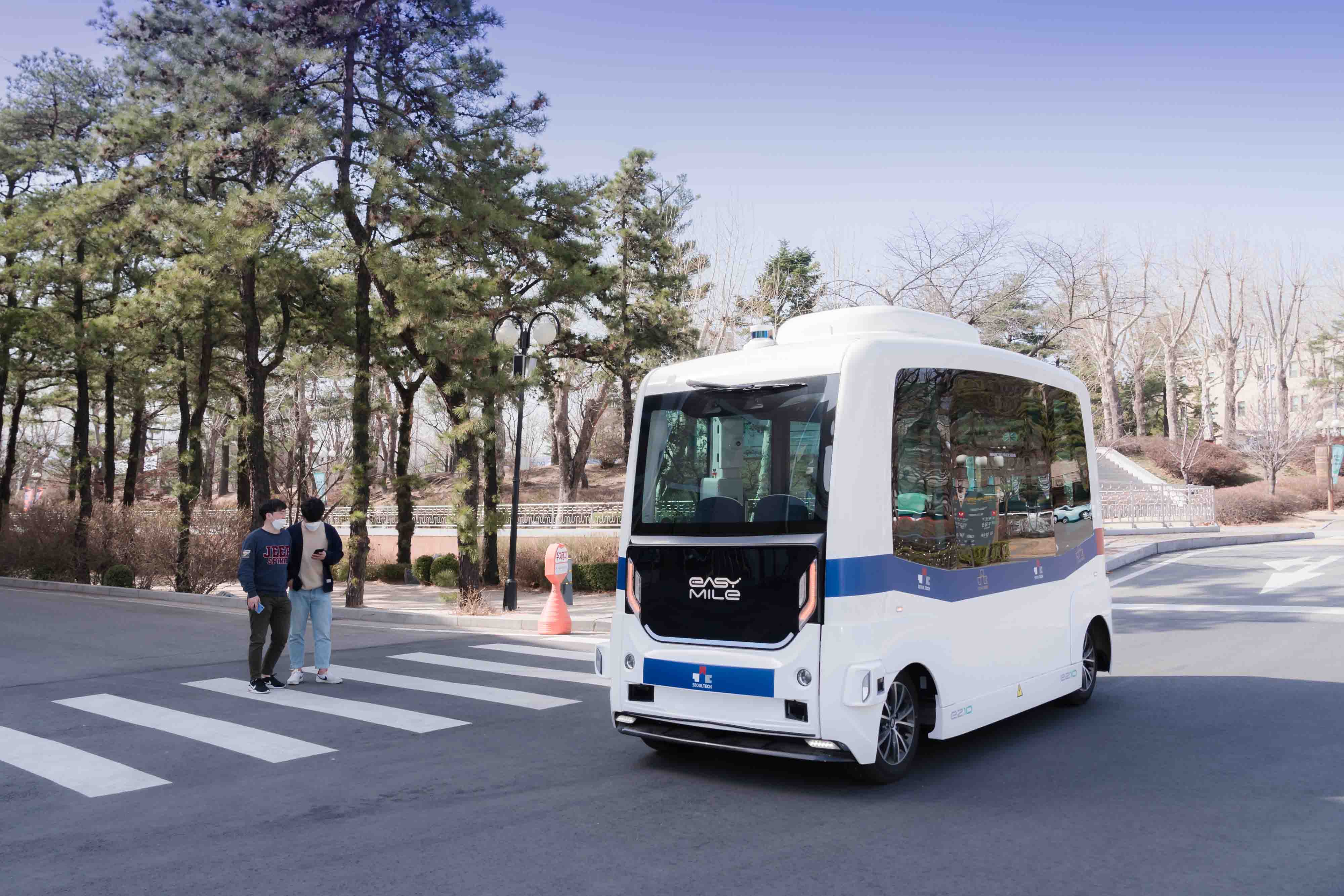 Toulouse, 31 March 2021 - EasyMile has made its debut in Korea in partnership with local autonomous Mobility as a Service (MaaS) provider SpringCloud. Their deployment of an EZ10 driverless passenger shuttle, 'Springcar', on the Seoul National University of Science and Technology campus meets on-site mobility needs.
The first successful deployment of an EasyMile shuttle in Korea is a critical step in a market with purchasing power. The nation has been opening up for development and commercialization of driverless solutions with the goal of reaching Level 4 autonomy by 2024.  Its government is investing millions over the next seven years into its "Autonomous Driving Technology Development Innovation Project" framework.
The EZ10 autonomous passenger shuttle is the first operation of an EasyMile solution in the nation. It provides a transport service for students, staff and visitors to the campus. With the shuttle covering a 1.9 kilometer route, it connects the main car park to a network of stops at key buildings throughout the campus. 
The university site brings together all the complex elements of an urban area: road and pedestrian traffic, roundabouts, intersections and parking lots. It lends itself perfectly to testing and validating transition to an urban scale. 
Various data obtained through the operation will also be collected at the control center built in the campus and used for driverless technology development.
Seoul National University of Science and Technology President Lee Dong-hoon said, "In many countries, including Singapore, autonomous shuttle operations are active on campus," and "Springcar will establish itself as a new culture."
---
Media contact:
Benieke Treverton
+33 (0)7 62 83 13 44
media@easymile‍.com
---
---
Version Française
EasyMile Déploie sa Première Navette Autonome en Corée
Toulouse, le 31 mars 2021 - EasyMile fait ses débuts en Corée en partenariat avec SpringCloud, fournisseur local de Mobility as a Service (MaaS). Le déploiement sur le campus de l'Université nationale des Sciences et Technologies de Séoul d'une navette autonome EZ10, dénommée «Springcar», répond aux besoins de mobilité sur place.
Le premier déploiement réussi d'une navette EasyMile en Corée est une étape critique sur un marché à fort potentiel. Le pays s'est ouvert au développement et à la commercialisation de solutions autonomes dans le but d'atteindre l'autonomie de niveau 4 d'ici 2024. Le gouvernement prévoit d'investir des millions au cours des sept prochaines années dans le cadre des «projets d'innovation pour le développement de la technologie de conduite autonome».
La navette autonome EZ10 est la première solution d'EasyMile en opération dans le pays. Elle fournit un service de transport pour les étudiants, le personnel et les visiteurs du campus, couvrant un parcours de 1,9 km, et reliant le parking principal à plusieurs bâtiments grâce à un réseau d'arrêts à travers le campus. 
Le site universitaire rassemble tous les éléments complexes d'une zone urbaine: circulation routière et piétonne, ronds-points, intersections et parkings. Il se prête parfaitement à tester et valider le passage à l'échelle urbaine.
Diverses données obtenues grâce aux opérations seront également collectées au centre de contrôle mise en place sur le campus et seront utilisées pour le développement de la technologie autonome.
Le président de l'Université Nationale des Sciences et de la Technologie de Séoul, Lee Dong-hoon, a déclaré: "Dans de nombreux pays, y compris Singapour, des navettes autonomes sont en service sur des campus" et "Springcar va s'imposer comme le nouveau mode de transport".
---
Media contact:
Lucas Yon
+33 (0)6 99 25 92 07
media@easymile.com